1,089 عدد المشاهدات
During a lecture organized by Jamal Bin Huwaireb Studies Center (JBHSC), Bukhash added "The UAE is seeking to make tourism an important source of income besides oil and trade".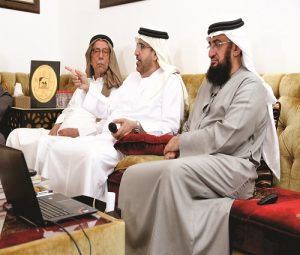 Bukhash also asserted that under the guidance of His Highness Sheikh Mohammed bin Rashid Al Maktoum, Vice President and Prime Minister of the UAE and Ruler of Dubai, the Shindagha Heritage District will be the largest open-air museum in the world. Moreover, "the directions of Sheikh Mohammed are being implemented for more than a year and soon, we will witness the opening of this area, which has been closed for maintenance and restoration, hopefully attracting millions of tourists every year."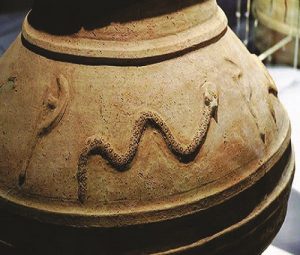 Jamal Bin Huwaireb CEO of the Mohammed Bin Rashid Al Maktoum Knowledge Foundation and Director of the JBHSC welcomed the lecturer and the guests saying: "There is no doubt that protecting architectural heritage and historic monuments is very crucial. Actually, Mr. Rashad Bukhash, Chairman of the architectural Heritage Society, has spent most of his life in research and studies in architectural heritage and ruins preservation. He has exerted great efforts to restore the monuments and to bring them back to life. Moreover, he has always contributed to inscribe these monuments on World Heritage List.
Our Identity … our Pride
"I will summarize 8,000 years of architectural heritage in a forty-five minute presentation," said Rashad Bukhash. "I hope you enjoy my presentation as I will do my best to convey this very important topic." 
"Since we witness the Year of Zayed," he continued, "I will start with his famous quote of wisdom: He who does not know his past cannot make the best of his present and future"
"We should learn from these wise words to benefit from our heritage in order to build a better present and future", he added, "Perhaps His Highness Sheikh Khalifa bin Zayed Al Nahyan- President of the UAE- asserts the words of the late Sheikh Zayed when he says: There's no present and there's no future for those who do not have their own identity"
"HH Sheikh Mohammed bin Rashid Al Maktoum, Vice President and Prime Minister of the UAE and Ruler of Dubai, drew a roadmap by saying: We are proud of our past and our present and we face the future with unflagging determination", continued Bukhash.


Historic Monuments
Architect Bukhash continued by saying: "After over forty years of research, we found that The UAE has over 3250 archaeological sites and historic monuments, and many of us may be surprised by this important information, which confirms that our country was the cradle of ancient civilizations, dating back to approximately 8000 years. For example, in Abu Dhabi, the civilization of Marwah Island dates back to 3500 BC while Umm al-Nar Island dates back to 2600 – 2000 BC.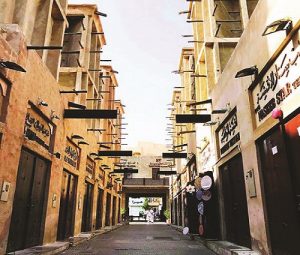 There are also the ruins of Hili and Mount Hafeet, located in Al Ain, that date back to 3000 – 1000 BC. In Dubai, the global site Saruq Al-Hadid around 1600 – 600 BC, contains ruins in the desert that date back to the Stone Age. This site was discovered by HH Sheikh Mohammed bin Rashid Al Maktoum when he was flying in a helicopter. He has seen pottery fragments at the site and has commanded to start digging the site. At the depth of eight meters, more than 23000 pieces were discovered, which constitutes about 5-10% of the site's assets. There were snakes engravings on pottery fragments, indicating that, at that period, the inhabitants of that area were using such items amulets to protect them from snakes".
In addition, AlQusais site, located 70 kilometers away from Saruq Al-Hadid, includes 47 tombs dating back to the same period.
Jumeirah Archaeological Site dates back to the end of the Umayyad era until the beginning of the Abbasid era.
In Sharjah we have many sites, the most prominent of which is Maliha which dates back to the 12th century BC.
There are two sites in Umm Al Quwain: AlDoor Site "Temple of the Sun" that dates back to the first millennium BC, and Tal Abrak site, located between Sharjah and Umm Al Quwain, which dates back to fourth millennium BC.
Dhayah Fort, Shaml and Shaam sites are some of the archeological sites at Ras Al Khaimah.

In Fujairah, we have many ruins dating back to the period of the Portuguese Empire, in addition to the ruins of Badiya district. The Ministry of Culture has printed a book about the UAE Heritage including all these archeological sites.
The English and Ruins

Architect Rashad pointed out that despite the fact that British colonization significantly neglected health sector in this area, yet the English were the best in drawing maps of the region due to their defense, commercial and preventive needs.
The first systematic survey of the Gulf Coast was carried out by British naval officers between 1820 and 1829. The aim was to produce a range of data and information on the Gulf and its coasts for navigational, military and commercial purposes.
They also prepared detailed maps of ports and cities, and recorded information about geology and trade centers.
Thanks to these maps, we could explore the historical walls of Dubai, especially Fahidi Fort in Dubai, and the location of towers and castles were identified.
Traditional Architecture

There were many types of traditional architecture in the country, including defense, residential, service, commercial and religious buildings, all of which were credited with introducing the culture and heritage of the local community.
A traditional house included air towers called "barajeel".
The vibrant longitudinal traditional markets and simple small-scale mosques, scattered across all region, are a clear expression of the richness and variety of traditional architecture.
The urban fabric containing the alleys of neighborhoods and squares, the architectural features characterizing buildings of different types, and the defense buildings represented by castles and fortified towers, reflect the history, heritage and life of the local community.
Most of the fortresses were built on a rectangular plan. This is reflected in Qasr al-Hosn, which was the residence of Al Nahyan family in Abu Dhabi, and Fahidi Fort, which was founded and inhibited by Al Maktoum family who moved from Abu Dhabi to Dubai in 1833. Later in 1861, the Family moved to Shindagha District.
There are plenty of fortresses in Sharjah, Ras Al Khaimah, Umm Al Quwain and Ajman, and many fortresses and watchtowers in Al Ain to protect palm groves and Aflaj – the traditional irrigation systems in many places in the Arabian Gulf region.
The towers and squares have been built for defense and surveillance purposes. The UAE has hundreds of towers; 60 of them are in Ras Al Khaimah, most of which require restoration.
In Dubai, 13 towers have been renovated, including Um al-Arjul Square. This Square is carried by seven columns and was built in 1906. Located on two high mountains in Hatta district, two round towers were built in 1860.
Residential houses and mosques

In the deserts, nomads built hair houses, while in the cities and urban traditional communities of the UAE, Arish houses were widespread. They were characterized by their human and spontaneous style and their reliance on locally available materials such as palm fronds.
There are 18 types of traditional houses, in addition to mud houses, found in Hatta, Dhaid and Masafi, and the Stone Tree House known as "Kufal houses". Large houses, spread throughout the UAE, were built of sea stone, shells and gypsum.
As for the mosques, "the Great Mosque" consisted of 54 domes. Sheikh Butti bin Suhail built a Great Mosque in 1908.
The lecturer spoke about educational institutions such as Ahmadiyya School, the oldest in Dubai "1912", Al Falah School, Al Shaab School, Al Saada School, Khawla School and Al Saaid School. He also talked about administrative buildings, building materials and decorations, and the use of "barajeel" for ventilation.
Heritage Preservation
Bukhash emphasized the importance of preserving the Architectural Heritage for several purposes:
– To develop and consolidate national identity.
– To spread awareness and preserve the Architectural Heritage to be used in heritage tourism
– To capitalize on heritage for the present and the future
– To register the UAE heritage in international organizations in order to further establish UAE's status at the world heritage map.
Bukhash also referred to the establishment of the Architectural Heritage Society in 2003, which includes today about 1450 members, seeking to achieve its objectives.
At the end of the lecture, Jamal Bin Huwaireb thanked the lecturer and the participants, calling for the need to enact a legislation to protect UAE heritage from demolition and tampering. He also stressed the importance of the participation of the private sector in the UAE in preserving the Architectural heritage, similar to the practice of Bahraini traders, who contribute, on their own initiative, to the restoration of ruins, proceeding from their responsibility towards the nation and its history.

Resume:
Architect Rashad Bukhash (Dubai – United Arab Emirates – 1961)
Director of Architectural Heritage Department at Dubai Municipality.
Member of Federal National Council
Chairman of Architectural Heritage Society – UAE
Bachelor degree in Architecture- 1986- Syracuse University, New York, USA
Master degree in Architecture- Historic Buildings Restoration- 2001- University of Manchester, UK.