808 عدد المشاهدات
Ali Obaid Al-Hamli
UNESCO's General Conference, at its 36th session held on November 3, 2011 proclaimed 13 February as World Radio Day. The date 13th of February is the day the United Nations Radio was established in 1946. In December 2012, the United Nations General Assembly formally endorsed UNESCO's proclamation of World Radio Day, thereby becoming a Day to be celebrated by all UN agencies, funds and programmes and their partners..
Early Radio Broadcasts in UAE
Individual Attempts
In the UAE the radio broadcast started before the television broadcast, through individual and official attempts. The first individual attempts were in 1958 in Dubai through the retired Brigadier General Saqr Majid Al-Marri, born in 1939. The radio station was called Dubai Radio from Al-Shindagha, and broadcast for an hour daily. Al-Marri studied in Al-Shaab and Ahmadiyya schools. In 1966 he obtained a high diploma in radio engineering from the Institute of Radio and Electronics in India. He worked as a video technician at Kuwait TV from Dubai and then an advisor for communications affairs at the Dubai Police.
Simplicity and Richness
Thereafter, Ajman Radio (1961-1965) was founded by Rashid Abdullah bin Hamdha Al Alili, and it broadcast three hours a day.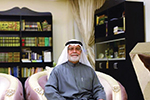 Rashid traveled to Saudi Arabia, after the death of his father, where he worked in a store that sells bicycles, television and radios. He was taught to repair radios by an Indian engineer. Six years later, he returned to Ajman and opened a store to repair watches and radios.
The radio materials that were broadcast on Ajman Radio at the time included recitations from the Holy Quran, Friday prayer sermons, poetry, news of the ruler, some religious instructions, what listeners demand, listeners' messages, and a program for social solidarity.
Official Broadcasts
"Voice of the Coast" was the first official radio station of the Trucial States in Sharjah (1964 – 1970), which was established by the Trucial States Development Office. It started broadcasting in 1964, and in 1970 it was replaced by Dubai Radio on the same frequency.
It broadcast from the British base in Sharjah, which was called (the station). It was home for the first Emirati radio female voice, presenter Hessa Al-Osaili (in 1965), who was 15 years old at the time.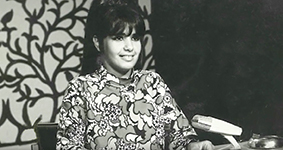 Hessa talked about the memories of those days, saying: "The radio headquarters was only a broadcast room based at the station, the old Sharjah Airport, which is now known as the "Station Museum" in Al Qasimia, Sharjah. I used to work from 4 pm till 10 pm and in the morning, school was my main concern. Sometimes I used to provide news bulletin and the "What listeners demand", a program dedicated to the listeners' requests for national, traditional and popular songs of the UAE.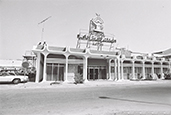 Abu Dhabi Radio (25/2/1969)
Abu Dhabi Radio was inaugurated with a recorded speech of the late Sheikh Zayed bin Sultan Al Nahyan, in which he said: "Peace, mercy and blessings of God.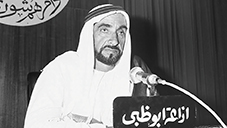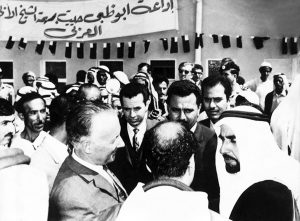 On the occasion of the opening of Abu Dhabi Radio, I feel happy to address this word to you and I am sure that you feel the same way I feel.
This radio broadcast should be concerned with Islamic and Arab concepts, spiritual values, morals, adherence to the true religion; Islam, authentic Arab customs, and traditions that we inherited from our fathers and grandfathers. We are an Arabic and Islamic nation, and we must adhere to Islam and its teachings, and teach Islam to our children and grandchildren, because this is our duty towards God and God is the one who provides success."
Dubai Radio (1970)
Dubai Radio replaced "Voice of the Coast", which stopped broadcasting in 1970. The headquarters of broadcasting was the current radio and television building located close to the Al Maktoum Bridge. Unfortunately, very little information is available on Dubai Radio.
Among the local voices that have emerged are: the late Abdel Ghafour Al-Sayed, Saeed Al-Hash and Saleh Buhamid. Among the Arab voices are: Muhammad Al-Muhtaseb, Haseeb Kayali, Hassan Ahmed, Abdul Qadir Al-Kurdi, Omar Abu Salem and Abdul Aziz Ismail.
Sharjah Radio (31/8/1972)
On August 31, 1972, the UAE Radio was inaugurated from Sharjah, and on November 5, 1975, His Highness Sheikh Dr. Sultan bin Muhammad Al Qasimi issued a decision to annex the radio to the Ministry of Information. On the 15th of November 2000, the UAE Radio was reopened from Sharjah.
His Highness Sheikh Dr. Sultan bin Muhammad Al Qasimi, Member of the Supreme Council and Ruler of Sharjah, said at the reopening ceremony: "Through this radio we will provide Islamic intellectual teaching that stems from our reality and is not imported or strange to us. We are primarily concerned with Arabic and Islamic culture, which represent the main element in the formation of an educated Arab citizen"
Then the local radio stations rolled in the Emirates, where Ras Al Khaimah Radio opened on December 12, 1971, Umm Al Quwain Radio in March 1978, Ajman Radio in 2001, and Fujairah Radio in June 2006.
Arabian Radio Network
Arabian Radio Network was established in Dubai in March 2001 and it is the largest radio network in the region with a listenership of 3.7 million a week. ARN has the largest audience base in the UAE. It has a variety of radio stations that speak different languages, including two Arabic-speaking radio stations; Al Khaleejiya and Al Arabiya. All ARN stations are multiplatform with unique content accessible online and via the latest smartphone apps.
Is the radio era over?
Despite all the challenges faced by the radio, its impact is still strong, as it attracts a lot of people who consider radio as their companion when they are traveling by car and public transport. Millions of people still listen to music and news on the radio, especially as it is available online and on smart phones.
In 2016, "UNESCO" statistics revealed that the number of radio listeners exceeded the number of TV viewers and smart phone users. There are more than 800 radio stations in developing countries, while nearly half of the world's population (3.9 billion people) are still unable to connect to the Internet.